Breaking News: Famously Dead Speak to This Medium!

Lisa Najjar is an international psychic medium and the author of Dying to Tell You. She is the Executive Producer and Intuitive Consultant for an award-winning documentary called What If? The Movie, a film that focuses on humanity's truly unlimited potential. Lisa's entrepreneurial spirit has created products dedicated to the promotion of world unity and peace. Lisa is also the creator of What a Fool Believes, a spiritual comedy talk show that covers a range of alternative, new age concepts, presented in an even-handed way from both the perspective of a sceptic and a believer.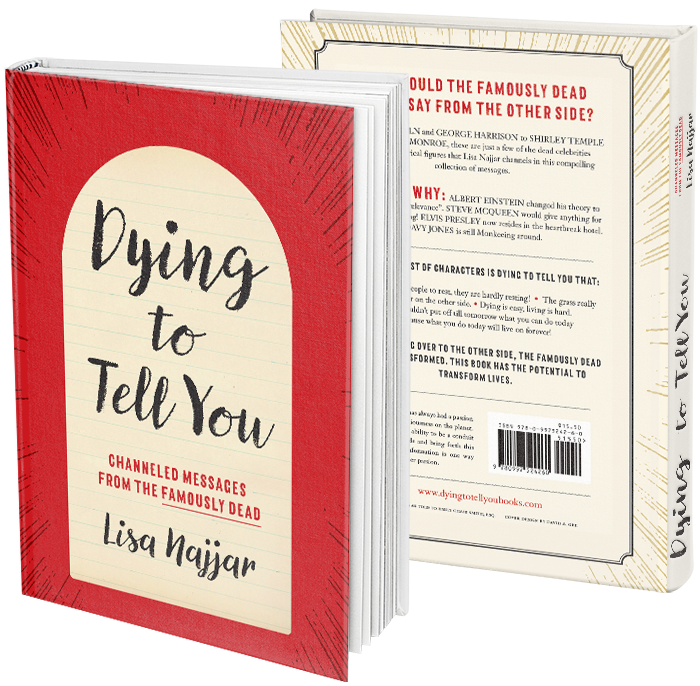 Show & Story Ideas
✮ What Abraham Lincoln, Walt Disney and Paul Newman told this woman - after they died!
✮ What women can learn about having a healthier body image - from deceased star and famous beauty Jayne Mansfield.
✮ Take the guesswork out of life by increasing your intuitive IQ. Take this quiz to see how you rate.
✮ This medium tells us the truth about ghosts.
✮ Over-caffeinated from too many coffee dates? Psychic gives 5 tips on how to improve your dating odds.
✮ Your child asks, "Can we go out to play?" but they're alone. Understanding your child's sixth sense.
✮ Ouija Boards: This medium reveals why this game is hardly child's play.
✮ Tomorrow's answers…today! Tips to help you avoid psychic fraud.
✮ Are your deceased loved ones calling you? Let this medium teach you how to pick up the phone!
Click here to book Lisa for a TV, Radio, Blog or Press interview.
Click here to download One-Page.
Book Media Interview
Book Speaker
Book A Reading
Buy The Book