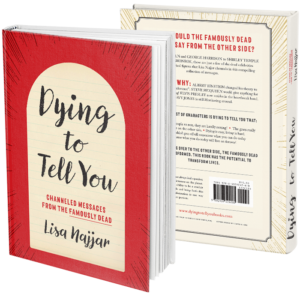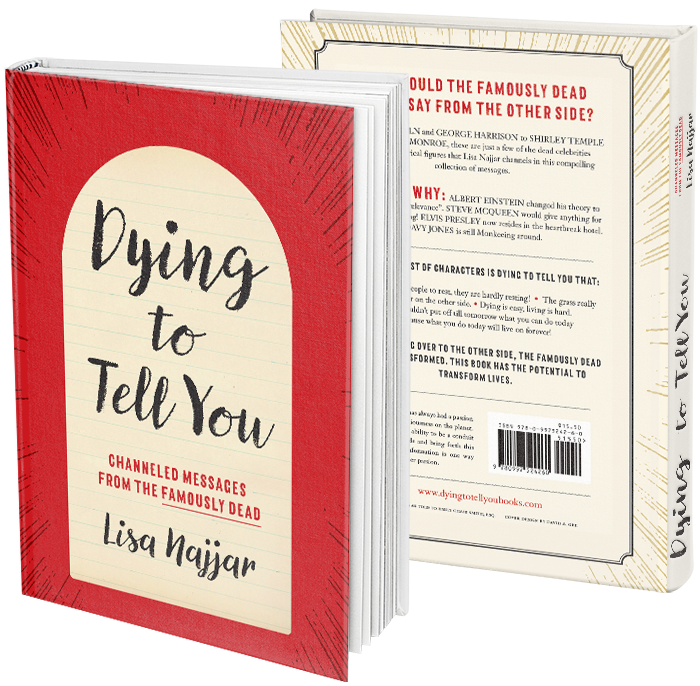 What would the famously dead have to say from the other side?
From Abe Lincoln and George Harrison to Shirley Temple and Marilyn Monroe, these are just a few of the dead celebrities and famous historical figures that Lisa Najjar channels in this compelling collection of messages.
FIND OUT WHY:  Albert Einstein changed his theory to "The Theory of Irrelevance". Steve McQueen would give anything for another shot at living! Elvis Presley now resides in the heartbreak hotel. Davy Jones is still Monkeeing around.
This iconic cast of characters is dying to tell you that:
When we lay people to rest, they are hardly resting!
The grass really IS greener on the other side.
Dying is easy, living is hard.
You shouldn't put off till tomorrow what you can do today because what you do today will live on forever!
Since crossing over to the other side, the famously dead have transformed. Let them be your guide in creating more passion and meaning in your life – and in your world! 
Lisa Najjar has always had a passion to help raise consciousness on the planet. As a medium, her ability to be a conduit from the other side and bring forth this very important information is one way that she is living her passion.

WHAT PEOPLE ARE SAYING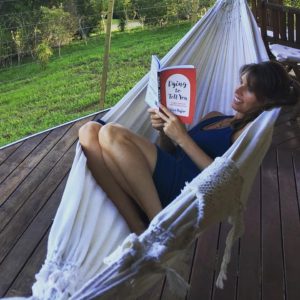 A book that has touched me so deeply: Dying to Tell You….(Messages from the Famously Dead) by Lisa Najjar. I am so grateful it has come into my life. What do Marilyn Monroe, John Lennon, Michael Jackson, George Harrison, Jesus, Mother Mary and Mark Twain (and many more) want to tell us - NOW from the BEYOND. Such uplifting messages, each one completely unique and with a different focus. Lisa listened to our music while receiving many of these messages.
~ International Singer/Musician Deva Premal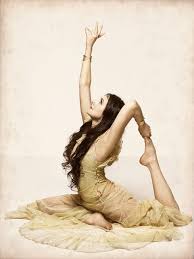 You may be a sceptic or a believer in the supernatural, but either way, reading Lisa Najjar's book, 'Messages from the Famously Dead', will undoubtably put you in a positive mood and increase your optimism about life as well as death.
~  Sharon Gannon, founder of the Jivamukti Yoga method.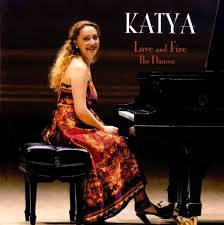 I highly recommend Lisa Najjar's book.  It connects you to another realm in a very positive way and reminds us of the Mystery of Life.
~ Katya Grineva, world-renowned Russian pianist.
There is energy coded in your work, I swear. I cried right along with you while reading while each spoke with you. So touching, profound, and so filled with love. Abraham Lincoln and Jesus, George Harrison, my gosh! We really are all ONE. I will treasure this book a long time. You are blessed with a brilliance of light and love. ~ Karen Johnson
Your book is sheer MAGIC!!!  Now I can FEEL why Deva is so excited about your book!  I have hardly ever been drawn to a book so much!  Beyond words! ~ Christine Etzel
Beautiful Reading. A book like no other I have come across. ~ Colleen
From the first page to the last, I was captivated by each story. This book gives us a peek into the world of those who've graced our Planet with incredible lives and what they felt was the most important lesson in Life to share. Truly a great read! So much so, I have read it twice. ~ Grammy K
I use her book like a oracle card deck by asking who wants to share their message with me today. ~ Shelly D. Bassett
As a young adult (21) I really enjoyed this book! Very simple, and easy to comprehend. This book helped to open up my horizons to the possibilities around us. I absolutely love the messages. I recommended to all my friends. ~ M.F.
What a cool and fun book to read. The messages are serious and deep, but it reads like a beach book (I read it on a lounge chair!) because you are almost in awe of the possibility that these messages could really be coming through from the other side. The tone really changes from messenger to messenger, and you can't wait to get to the next message. There were days when I would just pick up the book and open it randomly to a chapter and say to myself, "So what does Paul Newman have to say to me today?". (Love, love love.). Great reminders to make the most of our time in classroom earth. ~ Kathryn K.
Gently helpful guidance.  This book would make an excellent gift for anyone who is newly bereaved ... as well as for those who fear death. ~ Patricia Jones Eastwood
A meaning-filled book!  The messages are so important for TODAY. An easy read filled with messages both my husband and I share belief in and so I found it refreshing to know that even the dead are looking out for us and want to help. Highly recommend. ~ Trudy
Book A Reading
Book Speaker
Book Media Interview