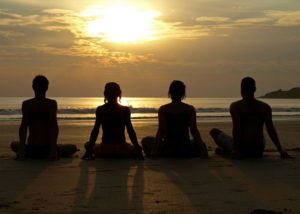 4-WEEK ONLINE MEDITATION "SAMPLER" COURSE (Coming Soon!)
Meditation is a holistic practice with many benefits, including helping us to connect with Spirit. There are different ways to meditate, and we will "sample" a few of these in this easy online course.
Leave us your Email – I will contact you soon with dates and sign-up details!
For legal reasons we must advise you that the information provided on this website and in Lisa Najjar's books, readings, services, blogs and courses, including ideas, suggestions, techniques, articles and other materials, is for entertainment purposes only.  This information is never to be construed as, or a substitute for, professional medical, psychological, financial, business or legal advice. You are advised to seek advice from a relevant qualified expert.
Lisa Najjar is not to be liable for any actions or non-actions taken by you, the client, based on any information provided by her through any means.
By viewing Lisa Najjar's website, reading her books, information and blogs, participating in her readings, services and courses, whether virtual or in person, you agree to fully release, indemnify and hold harmless Lisa Najjar and others associated with Lisa Najjar, from any claim or liability whatsoever for any harm or injury, including, but not limited to:  personal, mental, emotional, psychological, physical, special, indirect, incidental or consequential which you may incur arising at any time out of, or in relation to, viewing her website, reading her books, information and blogs, participating in her readings, services and courses and gaining information, ideas or suggestions from her through these and any other means.
Lisa Najjar's website, books, blogs and courses may contain references and links to other companies and/or their websites, services, materials, products and information, none of which are under the control of Lisa Najjar. The provision of the link and information does not mean that Lisa Najjar endorses or accepts any responsibility for the content, use, products and services made available through the associated websites and companies.  By utilizing this information and these links, you acknowledge and agree that Lisa Najjar is not responsible for the actions, content, accuracy, privacy policies, opinions expressed, services provided, goods sold, or other links provided by these websites/companies even if the products, services and information offered by those companies or their websites are described or offered on Lisa Najjar's website or in her books, services or courses, or if they are integrated with any of Lisa Najjar's products or services.  You further acknowledge and agree that Lisa Najjar is not responsible either directly or indirectly for any damage or loss caused by use of or reliance on linked websites, companies, information, services, materials and products.  Should you have any questions regarding these sites or any of their offerings, please address these questions with the appropriate website/company personnel.
By continuing to explore this website, read any books offered by Lisa Najjar, participate in any reading, service or course by Lisa Najjar and/or correspond with Lisa Najjar, you agree to all of the above.